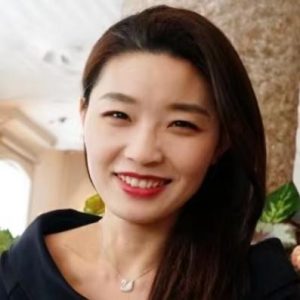 Dr. Fang Fang
Title: Key Communication and AI/Machine Learning Technologies for Intelligent Wireless Networks
Abstract:
Driven by the explosively increasing intelligent applications such as intelligent transportation, future wireless networks, particularly 6G, must embrace intelligence and require the cooperation of communication and artificial intelligence/machine learning (AI/ML) technologies. These technologies include non-orthogonal multiple access (NOMA), mobile edge computing (MEC) and reconfigurable intelligent surface (RIS), deep reinforcement learning, federated learning, etc. In this talk, I shall 1) introduce energy-efficient design NOMA enabled RIS systems; 2) present machine learning algorithms for intelligent wireless communications; 3) discuss future possible research topics on intelligent wireless communications.
Bio:
Dr. Fang Fang (S'16-M'18) received a Ph.D. degree in electrical engineering from the University of British Columbia (UBC), Canada, in 2017. She is currently an Assistant Professor in the Department of Electrical and Computer Engineering and the Department of Computer Science, Western University, Canada. Prior to joining Western, she was an Assistant Professor in the Department of Engineering at Durham University, UK, from 2020 to 2022. From 2018 to 2020, she was a Research Associate with the Department of Electrical and Electronic Engineering, The University of Manchester, UK. Her current research interests include machine learning for intelligent wireless communications, non-orthogonal multiple access (NOMA), reconfigurable intelligent surface (RIS), multi-access edge computing (MEC), Edge AI, and blockchain. Dr. Fang has been serving as a technical program committee (TPC) Member for IEEE flagship conferences, e.g., IEEE Globecom, IEEE ICC, and IEEE VTC. She received the Exemplary Reviewer Certificates of the IEEE Transactions on Communications in 2017 and 2021. Currently, she is an Associate Editor of the IEEE Open Journal of the Communications Society.
Dr. Jun Zhao
Title: Asynchronous and User-centric Reinforcement Learning for the Metaverse
Abstract:
The Metaverse has brought about a revolution in the internet space and is an important element of Web 3.0. The introduction of the Metaverse opened doors to not only interactive socialization through Extended Reality (XR), but also through its highly connected virtual world and ecosystem. With the extensive research and development in XR technologies, the once-so-expensive equipment has become affordable for both professionals and the common man. The increasing accessibility of XR equipment drives the penetration of XR technologies, and it is postulated to be a key feature in multi-player games, workplace meetings, and, potentially, simulations for scientific research and engineering. As the mobility of XR devices is attached with great importance, we need to consider XR technologies in the context of wireless communications. In this talk, I will introduce two intriguing scenarios (i) Real-time 3D reconstruction over asynchronous multi-stage wireless communication, and (ii) Virtual Reality (VR) over User-centric server-aided computing.
Bio:
Jun Zhao is currently an Assistant Professor at the School of Computer Science and Engineering (SCSE) at Nanyang Technological University (NTU) in Singapore. He received a Ph.D. degree May 2015 in Electrical and Computer Engineering from Carnegie Mellon University (CMU) in the USA, affiliating with CMU's renowned CyLab Security & Privacy Institute, and a bachelor's degree in July 2010 from Shanghai Jiao Tong University in China. Before joining NTU first as a postdoc and then as a faculty member, he was a postdoc at Arizona State University as an Arizona Computing PostDoc Best Practices Fellow. His current research interests include AI and Metaverse, Security and Privacy, 6G wireless communications, federated learning, IoT. He serves as the associate Editor of IEEE Wireless Communication, and IEEE Transactions on Cognitive Communications and Networking since 2022. He was also the PhD Symposium Chair of ICDCS 2023, the Local Arrangement Chair of WiOpt 2023, the Student Travel Grant Chair of IEEE SmartGridComm 2022, and the TPC Chair of EAI WiSATS 2022.
Dr. Zahid Khan
Title: A Game Theoretic Approach for Intelligent Transportation Systems
Abstract:
The exponential growth in citizens and transportation sources raises many challenges, such as massive traffic jams and accidents. The existing Internet-of-Things (IoT)-based transport management schemes are costly (money and time) and unable to avoid congestion in real-time. In this talk, the speaker discusses proposed smart traffic management (STM) framework by combining the concept of Internet-of-Vehicles (IoV) and game theory for efficient traffic load management on an uncontrolled road's intersection. The road intersection is a non-cooperative game, where Nash Equilibrium (NE) sets traffic for each route so that no individual can improve its performance by changing its strategy. In a highly congested traffic scenario, the vast number of players/vehicles significantly affects the strategy selection process. The speaker introduces an agent representative approach to overcome this issue, where spectral clustering combines players with the same strategies and payoff in a collaborative group. The talk includes some experimental results which show that the proposed traffic game significantly outperforms the existing schemes in terms of traffic intensity rate, average stopped cars, average waiting time at an intersection, average travel time, and average speed.
Bio:
Dr. Zahid Khan (S'17-M'19-SM-21) received a master's degree in computer science from the University of Sophia Antipolis, Nice, France, in 2015, and a Ph.D. degree in information and communication engineering from Southwest Jiaotong University, Chengdu, China, in 2019. He has completed a three years postdoctoral research with the Robotics IoT Laboratory, Prince Sultan University, Riyadh, Saudi Arabia, from 2019 to 2021, where he is currently a Senior Researcher and a Faculty Member (Ranked Assistant Professor). He has published more than 25 research articles in leading journals and conference proceedings, including IEEE Transactions and Flagship conferences. His current research interests include IoT-based intelligent transportation, cluster-based routing schemes for VANETs, link reliability, and connectivity of VANETs. Dr. Zahid performed many editorial services in various journals and conferences.
Dr. Gwanggil Jeon
Title: Spatial and Frequency Domain Color Interpolation for CFA
Abstract:
This seminar addresses the problem of interpolating missing color components at the output of a Bayer color filter array (CFA), a process known as demosaicking. A luma-chroma demultiplexing algorithm is presented in detail, using a least-squares design methodology for the required bandpass filters. A systematic study of objective demosaicking performance and system complexity is carried out, and several system configurations are recommended. The method is compared with other benchmark algorithms in terms of CPSNR and S-CIELAB ΔE * objective quality measures and demosaicking speed. Finally, some deep learning-based image processing applications are introduced.
Bio:
Gwanggil Jeon received the B.S., M.S., and Ph.D. (summa cum laude) degrees from the Department of Electronics and Computer Engineering, Hanyang University, Seoul, Korea, in 2003, 2005, and 2008, respectively. From 2009.09 to 2011.08, he was with the School of Information Technology and Engineering, University of Ottawa, Ottawa, ON, Canada, as a Post-Doctoral Fellow. From 2011.09 to 2012.02, he was with the Graduate School of Science and Technology, Niigata University, Niigata, Japan, as an Assistant Professor. From 2014.12 to 2015.02 and 2015.06 to 2015.07, he was a Visiting Scholar at Centre de Mathématiques et Leurs Applications (CMLA), École Normale Supérieure Paris-Saclay (ENS-Cachan), France. From 2019 to 2020, he was a Prestigious Visiting Professor at Dipartimento di Informatica, Università degli Studi di Milano Statale, Italy. He is currently a Full Professor at Incheon National University, Incheon, Korea. He was a Visiting Professor at Sichuan University, China, Universitat Pompeu Fabra, Barcelona, Spain, Xinjiang University, China, King Mongkut's Institute of Technology Ladkrabang, Bangkok, Thailand, and University of Burgundy, Dijon, France. Dr. Jeon is an ACM Member, IEEE Senior Member, an Associate Editor of Sustainable Cities and Society, IEEE Access, Real-Time Image Processing, Journal of System Architecture, and MDPI Remote Sensing. Dr. Jeon was a recipient of the IEEE Chester Sall Award in 2007, ACM's Distinguished Speaker in 2022, the ETRI Journal Paper Award in 2008, and Industry-Academic Merit Award by the Ministry of SMEs and Startups of Korea Minister in 2020.